We love receiving new kitchen items to refresh our store in Pacific Beach or to add to our online store. And, when you donate your unused or pre-loved items, not only do you save them from the landfill, but Kitchens for Good uses the proceeds from every sale to support our nonprofit programs. View our checklist below to see the items we accept when you donate kitchenware. All donations are tax-deductible and we issue receipts at the time of donation.
How to Donate Kitchen Items
We welcome a huge range of kitchen and dining items, whether it's a donation of pots and pans, utensils, plates, appliances, fine china, or that pizza stone you used twice! If you're not sure, just call us on (858) 999-0125.

We also accept new items. All you need to do is declutter your kitchen, double-check your items, and then drop off your donation. We do offer donation pick-ups on a case-by-case basis. Please contact us if you would like to discuss a donation pick-up.
Donate Kitchenware With Give Back Box
Donate your items from the comfort of your own home with Give Back Box. Donating through Give Back Box is not only convenient, but it's also environmentally friendly. By using a shipping box that you already have and choosing to donate rather than throw away your items, you're helping to reduce waste and protect the environment. Here's how it works:
Fill up a box with your gently used kitchenware and home décor items, and tape it up securely.
Print a shipping label from Give Back Box's website and attach it to the box. Drop the box off at any UPS or USPS location.
Your donations will then be sent directly to our shop, where they will be sold to help people start fresh and transform their lives through culinary arts.
Why Donate Kitchen Items
There's a whole host of reasons to donate your preloved kitchenware, cookware, dinnerware, and home décor.
Help transform lives – When you donate to Kitchens for Good shop 100% of the proceeds raised from your sold items go to support our nonprofit programs.
Donate sustainably – Donating items is environmentally friendly. Our relationship with Enviro-Green means that items that are a little too worn but still have love left to give are reused or recycled by communities in Mexico and kept out of landfills. If every US household recycled one pot or pan, the CO2 emissions saved would be equivalent to taking 185,000 cars off the road for a whole year and the energy saved could power 322,251 homes for a year!
Decluttering is good for you – Not only does decluttering make it easier to find what you need in your kitchen, but it also improves your mind and reduces stress and anxiety. When you get rid of excess stuff it benefits your mental health and can make you feel calmer, happier, and more in control.
Give your unused kitchen items a second chance – Thousands of items are donated each month, and are then upcycled so they can help equip low-income homes with essential kitchen items.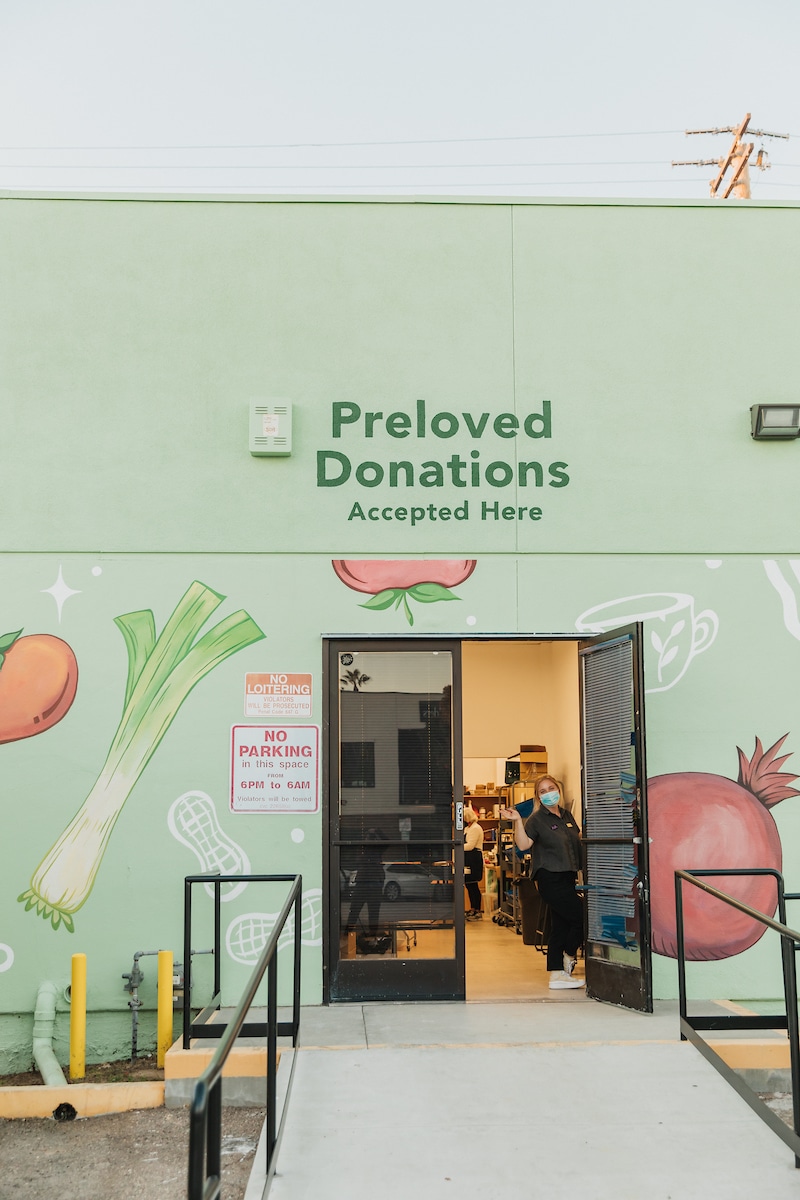 Where to Donate Kitchen Items
Address:
980 Hornblend Street
Pacific Beach
San Diego, 92109
Store Hours:
Monday through Sunday 10am – 6pm
Contact info:
(858) 999-0125
shop@kitchensforgood.org