About
US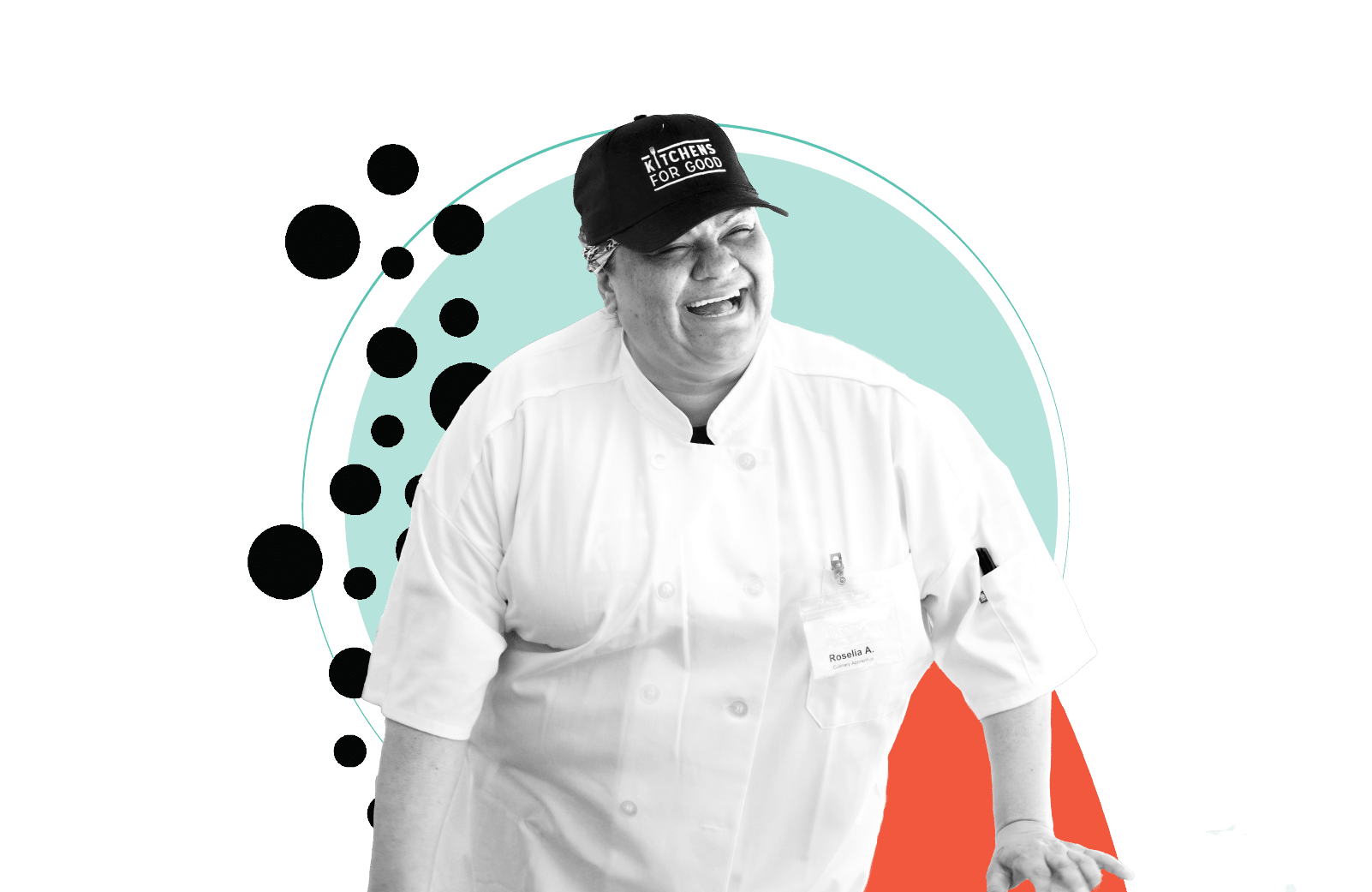 Kitchens for Good is a sustainability-oriented San Diego nonprofit dedicated to making a positive impact on our economy, society, and environment.

The heartbeat of the organization is our tuition-free Apprenticeship Programs in Culinary, Baking, and Food Service professions that help individuals facing barriers to employment become work ready, be placed in quality jobs, and start a career in San Diego's robust Hospitality industry.

At Kitchens for Good we are dedicated to helping people take the next step forward in their lives.

Our Apprentices, many of whom have been impacted by histories of trauma, and have faced barriers to employment, gain the technical and life skills they need to launch meaningful careers in the hospitality industry. Through our California state-certified Apprenticeship programs, our Apprentices are able to secure well-paying jobs, gain confidence, continue to grow, and positively contribute to their communities.
Our
HISTORY
In just eight years, Kitchens for Good has become one of San Diego's most innovative and successful examples of an organization focused on developing sustainable solutions that positively impact our economy, our society, and our environment.
2023
Kitchens for Good began leasing a boutique commercial bakery in Old Town. A dedicated space to provide training to baking apprentices. This increases capacity for enrolling aspiring cooks and food service managers at our Door of Hope campus.
2022
Kitchens for Good SHOP had its grand opening in Pacific Beach which sells donated kitchenware, diverting them from landfills, and reinvests any profits to support core programs. Kitchens for Good also successfully launched WORKS its temp-to-hire staffing agency and employment social enterprise.
2021
Kitchens for Good moved onto the Salvation Army Door of Hope campus fully operationalizing the baking and hospitality apprenticeship programs to attract more enrollees and meet the labor demand caused by the pandemic. The organization enhanced many Project Launch offerings including its food service operations at The Rady Shell to help apprentices gain customer service skills.
2020
Kitchens for Good's Project Launch was approved to add a Hospitality apprenticeship program to train customer-facing roles complimenting the back-of-house focused culinary occupations. When the pandemic hit in March, Kitchens for Good quickly pivoted to meet the growing need for food assistance and scaled its existing hunger relief production from 2,000 meals pre-pandemic to over 15,000 meals a week by May.
2019
In 2019, Kitchens for Good expanded its reach to North County San Diego by assuming operations of the kitchen and restaurant at the Moonlight Amphitheatre in Vista.
2018
Kitchens for Good was awarded a California Apprenticeship Initiative grant to launch a certified Baking apprenticeship program using its Project Launch culinary model to meet San Diego's Accommodations and Food Service industry's growing employment needs for bakers.
2017
In March 2017, Kitchens for Good's Project Launch program became California's first certified culinary apprenticeship program and one of the only models specifically designed for individuals with barriers to employment.
2016
By January 2016, Kitchens for Good was operating an award-winning catering enterprise alongside a culinary job training, food rescue, and healthy meal production programs from the Jacob Center in the heart of the San Diego Promise Zone.
2015
In September Kitchens for Good launched its first social enterprise training kitchen at the Jacobs Center for Neighborhood Innovation in Southeast San Diego taking over operations of a robust catering company, acquiring its 36 staff, hundreds of catering clients and 25,000 square foot kitchen and venue space.
2014
Kitchens for Good (formerly known as Phoenix Foods, USA, Inc.) was founded by forward-thinking individuals dedicated to resolving food insecurity by ending food waste and developing a workforce training program that would lead to living-wage jobs for people negatively impacted by the justice system, housing inequities, or substance and mental health challenges.
Kitchens for Good San Diego
Address:
2799 Health Centre Drive,
San Diego, 92123
Office Hours:
Monday through Friday 9am – 5pm
Contact info:
(619) 450-4040
info@kitchensforgood.org